On 28th March 2022, the Ministry of Primary and Mass Education Bangladesh MOPME Job Circular Has Been Published. Several  New Vacancies Are Available On Their Job Circulars. We, Will, Bring You That Circular With Detailed Instructions.  The Last Date Of The Application Is 25th April 2022. If You Want To Know More Bank Job, Engineering Job, Govt. Job, Private Job, Medical Jobs, Pharmaceuticals Jobs, BGB Jobs, Army Jobs, Navy Jobs, Air Force Jobs, Police Jobs, Anser & VDP,  Fire Fighter Jobs And Also Find Educational All Results   ← Just Click This Highlight Links.  Job Details Below ↓ (Skip The Ads)
Organization: Ministry of Primary and Mass Education Bangladesh (MOPME)
Company Details: To Know About Company -> See Below
Position :

Senior Data Entry / Control Officer
Computer Operator
Typist Cum Computer Operator
Data Entry Operator
Office Assistant Cum Computer Operator
Office Assistant

Total Post: 12
Qualification: See The Circular Below
Salary: See The Circular Below
Application Dead Line: 25th April 2022
Ministry of Primary and Mass Education
The Ministry of Primary and Mass Education (প্রাথমিক ও গণশিক্ষা মন্ত্রণালয়) (abbreviated as MoPME) is the ministry responsible for Primary (Class I-VIII)  and Mass (literacy) education in Bangladesh. Secondary, vocational, and tertiary education is the responsibility of the Ministry of Education (Bangladesh) (MoED).
Vision:
To establish a knowledge-based and technologically-oriented competent society to ensure that every school-age child has access to primary level institutions that provide all necessary facilities, continue in school to receive and achieve quality education, and provide opportunities to pre-school children, young persons, and adults to meet their learning needs in a competitive world.
Mission:
 To ensure 100% enrollment of school-aged children.
To reduce the trend of drop-out rate of the enrolled students, so that achievements translate into comparable completion rates; and
To eradicate illiteracy from the country by 2014.
Ministry of Primary and Mass Education MOPME Job Circular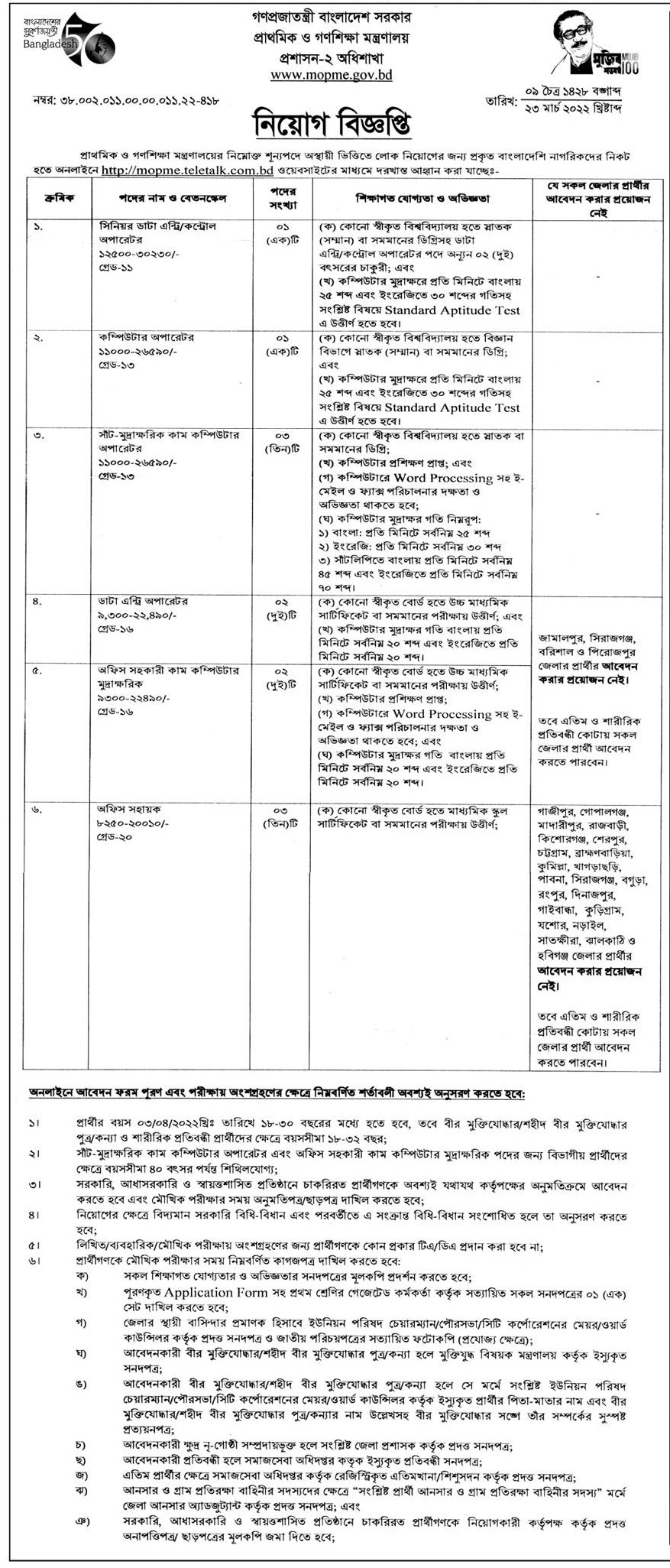 Apply for job
Sorry! application is not available.
Related Jobs