On 19th July 2022, The Jamuna Group Job Circular  Has Published. Several  New Vacancies Are Available On Their  Job Circulars. We, Will, Bring You That Circular With Detail Instructions.  The Last Date Of Application Is 25th July 2022. If You Want To Know More Bank Job, Engineering Job, Govt. Job, Private Job, Medical Jobs, Pharmaceuticals Jobs, BGB Jobs, Army Jobs, Navy Jobs, Air Force Jobs, Police Jobs, Anser & VDP,  Fire Fighter Jobs  And Also Find Educational All Results   ← Just Click This Highlight Links.
Job Details
Organization: Jamuna Bank Limited
Company Details: See The Circular Below
Position :

Sales / Marketing Officer
Branch Manager

Total Post: 10
Qualification:  See The Circular Below
Salary: See The Circular Below
Dead Line: 25th July 2022
Jamuna Group is one of the largest Bangladeshi industrial conglomerates. The industries under this conglomerate include Textiles, Chemicals, Leather, motorcycles, Consumer products, Media, Advertisement, etc.
Jamuna was established in the 1970s by Nurul Islam Babul, an architect and was the first chairman of the group. Best known for the Jamuna Group and Jamuna Future Park, Babul was also the owner of the Bangla daily Jugantor and television channel Jamuna TV.
Advocate Salma Islam is the wife of Nurul Islam Babul. She is also an MP in the Dhaka 1 constituency.
Board of Directors: MD Shamim Islam Monika Islam Rozalin Islam Soniya Islam
Jamuna group is also known for its huge contributions to the Rohingya crisis. They have initiated an NPO to further help the people in distress. So far they have donated BDT 1cr into the organization.
Jamuna Group Job Circular 2022
Jamuna Bank Limited JBL Job Circular 2022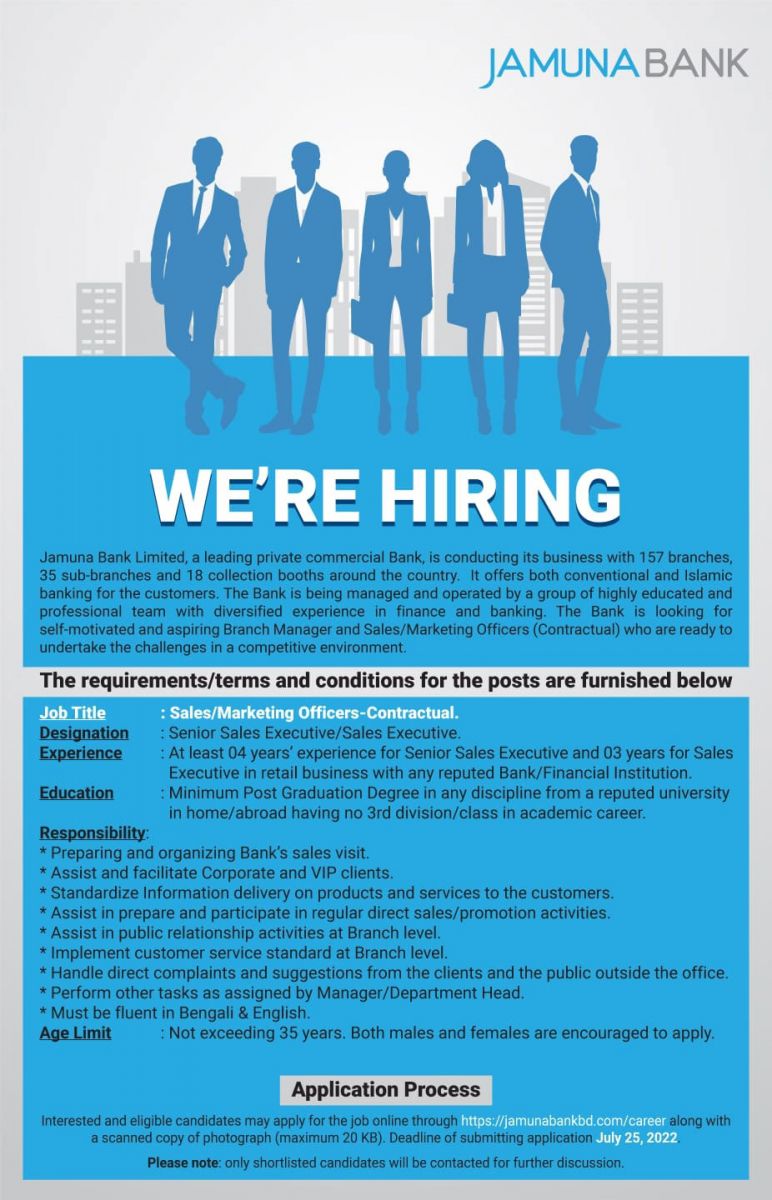 Apply Online → Click Here
Apply for job
Sorry! application is not available.
Related Jobs