On 30th July 2022, the Dhaka Mass Transit Company (Dhaka Metro Rail) Job Circular Has Published.  New Vacancies Are Available On Their Job Circulars. We, Will, Bring You That Circular With Detailed Instructions. The Last Date Of Application Is 31st July 2022. If You Want To Know More Bank Job, Engineering Job, Govt. Job, Private Job, Medical Jobs, Pharmaceuticals Jobs, BGB Jobs, Army Jobs, Navy Jobs, Air Force Jobs, Police Jobs, Anser & VDP,  Fire Fighter Jobs, and Find Educational All Results   ← Just Click This Highlight Links.
Job Details
Organization: Dhaka Mass Transit Company (Dhaka Metro Rail)
Company Details:
Position :

Several Position (Please See The Circular)

Total Post: 24
Qualification: See The Circular
Salary: See The Circular Below
Dead Line: 31st July 2022
Dhaka Metro Rail
Dhaka Metro Rail (ঢাকা মেট্রো রেল) is an approved mass rapid transit system under construction in Dhaka, the capital and the busiest city of Bangladesh. Together with a separate light rapid transit (LRT) system, it has been long called for to ease the extreme traffic jams and congestion that occur throughout the entire city daily, one of the heaviest in the world. It is a part of the 20-year long Strategic Transport Plan (STP) outlined by the Dhaka Transport Coordination Authority (DTCA), a governmental agency.
As of 2020, the metro rail system consists of one line referred to as the MRT (Mass Rapid Transit) Line-6, with other metro rail lines going to be added in the future. This article focuses mainly on Dhaka MRT Line-6.
Line-6 consists of 16 elevated stations each 180m long and 20.1 km (12.5 mi) of electricity-powered light rail tracks. All of Line-6, save for the depot, and some of its accompanying LRT, will be elevated above current roads primarily above road medians to allow traffic flow underneath, with stations also elevated.
Construction began on 26 June 2016 with an inauguration ceremony presided over by the reigning prime minister Sheikh Hasina. The civil work is being done by the Italian-Thai Development Public Company Ltd. and Sinohydro Corporation Ltd. JV and a Tokyo-based construction company is developing the depot's land.
Dhaka Metro Rail Job Circular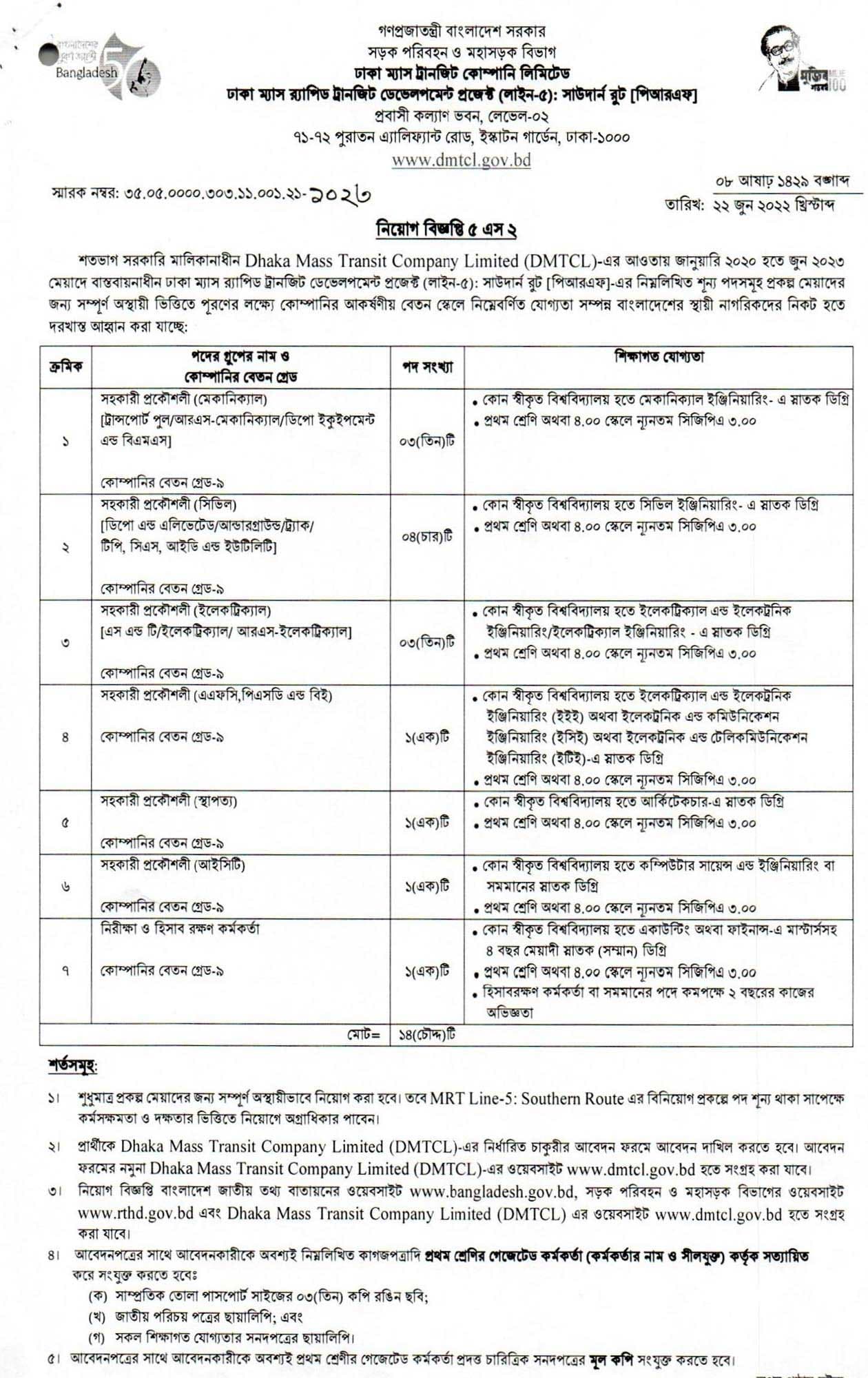 Apply for job
Sorry! application is not available.
Related Jobs