On 27th July 2022, the Department of Archaeology Job Circular was Published. Several  New Vacancies Are Available On Their  Job Circulars. We, Will, Bring You That Circular With Detail Instructions.  The Last Date Of Application Is 12th August 2022. If You Want To Know More Bank Job, Engineering Job, Govt. Job, Private Job, Medical Jobs, Pharmaceuticals Jobs, BGB Jobs, Army Jobs, Navy Jobs, Air Force Jobs, Police Jobs, Anser & VDP,  Fire Fighter Jobs, And Find Educational All Results   ← Just Click This Highlight Links.
Job Details
Organization: Department of Archaeology 
Company Details: To Know About Company -> See The Circular Below
Position :

Librarian cum Custodian
Higher Level Assistant
Typist cum Computer Operator
Account Assistant
Design Artist
Assistant Model Creator
Photographer
Electrician
Foreman
Driver
Reference Assistant
Photo Publisher
Booking Assistant
Cash Governess
Despatch Rider
Duplicating Machine Operator
Library Attendance
Museum Attendance
Chef
Office Assistant
Site Attendant
Sweeper

Total Post: 46
Qualification: See The Circular Below
Salary: See The Circular Below
Deadline: 12th August 2022
Department of Archaeology
Department of Archaeology (বাংলাদেশ প্রত্নতত্ত্ব অধিদপ্তর)  is one of the government agency of Bangladesh. By the Laws of Archaeology 1964 (amended in 1976) this agency maintains the conservation and preservation of archaeological sites in the country. Since 2013, the department has been running its activities from the Administration Building in Agargaon in Dhaka.
The organization was founded in 1861 as a part of the Archaeological Survey of India. After the independence of Bangladesh, its office was established in Dhaka. In 1983 regional offices were established in the then 4 divisions including Dhaka as the headquarter by divisional rearrangement.
Department of Archaeology (Bangladesh) compiles and also conserves the list of archaeological sites and artifacts of Bangladesh. Currently (June 2016) there are 452 archaeological sites under the conservation of this department. Some of the mentionable among them are- Mahasthangarh, Mainamati, Somapura Mahavihara, Shita Coat Bihar, Nawabganj, Kantajew Temple, Choto Sona Mosque, Sixty Dome Mosque, Vasu Vihara, Barobazar, Lalbagh Fort. Among these, Somapura Mahavihara and Sixty Dome Mosque have been recognized as World Heritage Sites. Also, there are 17 Archaeology museums under the administration of this department. The department works to recover history by discovering ancient cultural elements from remote areas scattered within the country to repair and preserve the discovered monuments and exhibit them.
Department of Archaeology Job Circular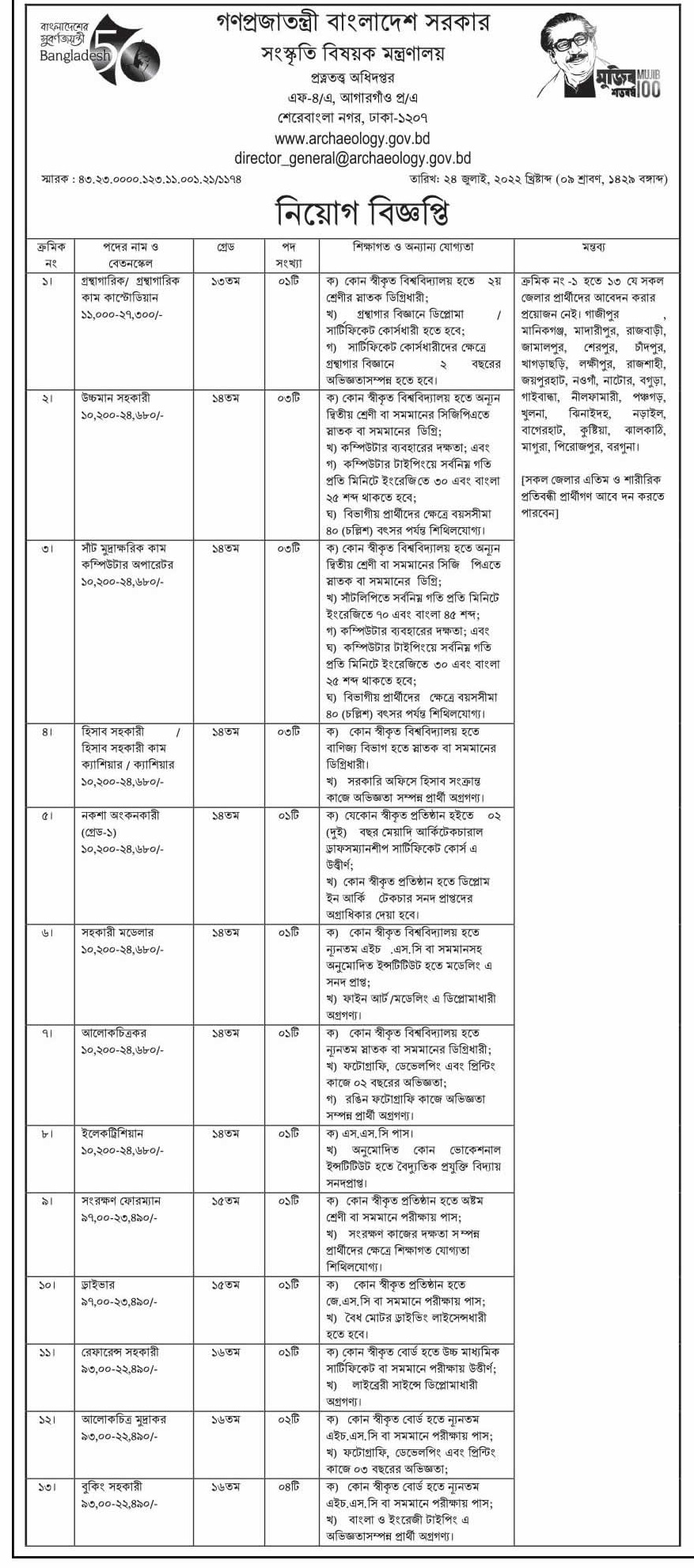 Online Application → Click Here
Apply for job
Sorry! application is not available.
Related Jobs