On 22nd November 2022, Bangladesh Police  Job Circular has published. Several  New vacancies are available on their job circulars. We will bring you that circular with detailed instructions.  The Last Date for Application is the 7th of August 2022. If You Want To Know More Bank Job, Engineering Job, Govt. Job, Private Job, Medical Jobs, Pharmaceuticals Jobs, BGB Jobs, Army Jobs, Navy Jobs, Air Force Jobs, Police Jobs, Anser & VDP,  Fire Fighter Jobs, and also Find Educational All Results   ← Just Click These Highlight Links.  Job Details Below ↓ (Skip The Ads)
Bangladesh Police
The Bangladesh Police (বাংলাদেশ পুলিশ) is the main law enforcement agency of Bangladesh. It is administered under the Ministry of Home Affairs of the Government of Bangladesh. It plays a crucial role in maintaining peace, and enforcement of law and order within Bangladesh. Though the police are primarily concerned with the maintenance of law and order and the security of persons and property of individuals, they also play a big role in the criminal justice system.
Bangladesh Police (BP) is always looking for enhancing its capacity and reputation by recruiting motivated, disciplined, and educated police personnel. Therefore; BP warmly welcomes enthusiastic, tenacious, and tough people to join the police and start serving and protecting the community, with the responsibility of maintaining law and order resting on them.
Recruitment in Bangladesh Police is conducted in the four tiers/ranks Assistant Superintendent of Police (ASP), Sub Inspector, Sergeant, and Constable. A Bangladeshi male or female citizen fulfilling all required eligibilities can apply for any of these three positions and gets entry through rigorous physical and written tests, interviews as well as police verification.
Police Rank Badges
police range in bangladesh
The Assistant Superintendent of Police (ASP) is the highest entry-level position or rank of Bangladesh Police. Building a career as an Assistant Superintendent of Police (ASP) is a matter of pride, for those who possess patriotic zeal and are dedicated to serving the community as well as upholding human rights..... See More
The Sub Inspector is the non-cadre mid-level entry position of Bangladesh Police. The Sub Inspectors are vital to maintaining criminal law and order in the country. They are competent for field-level operation, combining both to uphold justice and serve the public.....See More
The Sergeant is a mid-level entry position in Bangladesh Police. The Sergeants are enforcers of traffic law and are cardinal to maintaining traffic order in the country. They are dedicated to serving the public by keeping the transportation system safe...See More
The Constable is the primary level entry position of the Bangladesh Police. Constables are the public face of policing in Bangladesh. They serve the community at the most basic level...See More
Bangladesh Police Job Circular
police job circular 2022 constable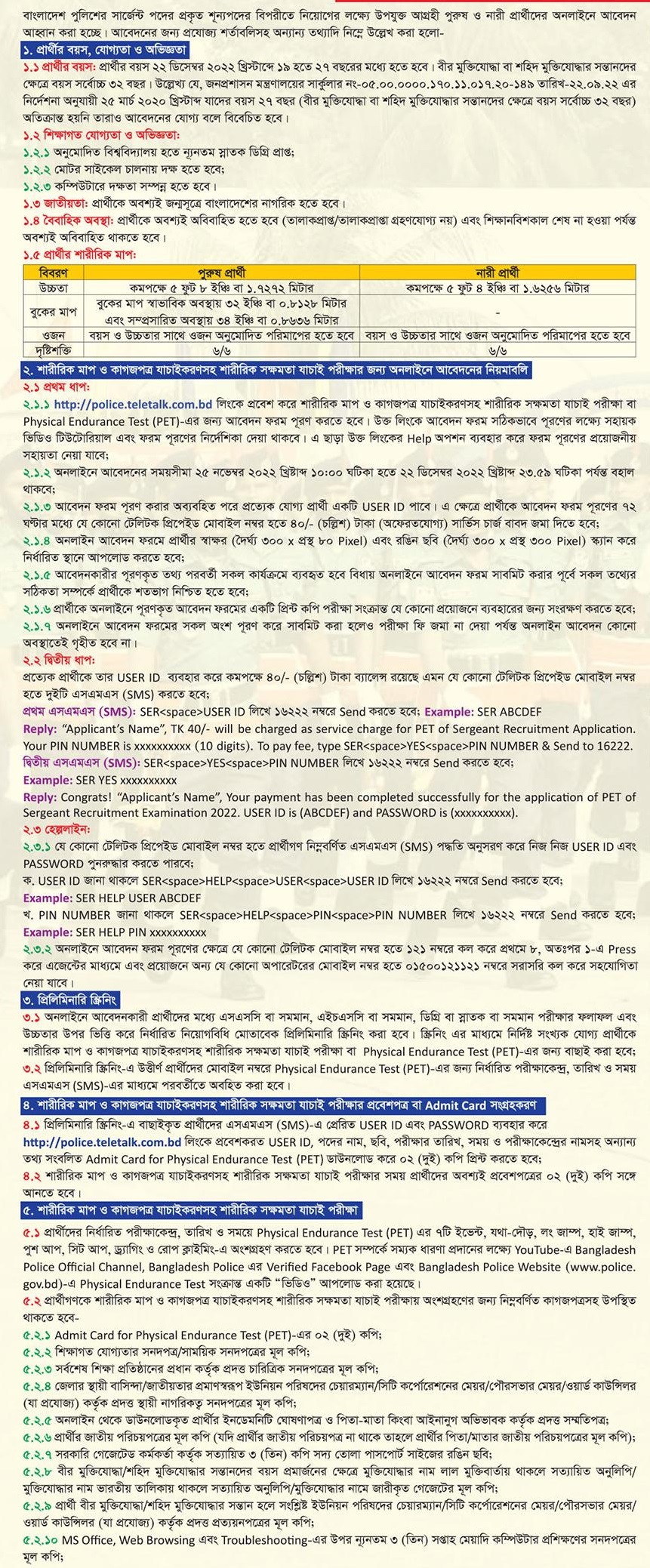 police job circular 2022 new
Dhaka Metropolitan Police Headquarters Job Circular 2022
Armed police battalion school and college 2022
You Here because you search this: police job circular 2022 new, police job circular 2022 constable, police job, police job circular 2023, police job apply, police circular 2022, police job circular, police teletalk bd, police teletalk com bd admit card, police telecom rajarbag, police telecom inspector,
Related Jobs