On 17th August 2022, Bangladesh Cable Shilpa Limited (BCSL) Job Circular was Published. Several  New Vacancies Are Available On Their Job Circulars. We, Will, Bring You That Circular With Detailed Instructions.  The Last Date Of Application Is 14th September 2022. If You Want To Know More Engineering Job, Govt. Job, Private Job, Medical Jobs,   BGB Jobs, Army Jobs, Navy Jobs, Air Force Jobs, Police Jobs  Or  Fire Fighter Jobs  And Also Find Educational All Results   ← Just Click This Highlight Links
Job Details
Organization: Bangladesh Cable Shilpa Limited (BCSL)
Company Details: To Know About Company -> See Below
Position :

Please See The Circular Below

Total Post: 13
Qualification: See The Circular
Salary:  See The Circular
Dead Line: 14th September 2022
Bangladesh Cable Shilpa Limited (BCSL)
Bangladesh Cable Shilpa Limited or BCSL is a state-owned company of the Government of Bangladesh, located on the bank of the Bhairab River in the Shiromani Industrial Area of Khulna City.
The company was established in Khulna, Pakistan, in 1967, and it went into commercial production in 1973. In 2011, it started producing fiber optic cable. As of 2010, the company had been able to make a profit every year. Its yearly revenue in 2010 exceeded 1 billion BDT ($14.4M in 2010).
Bangladesh Cable Shilpa Limited BCSL Job Circular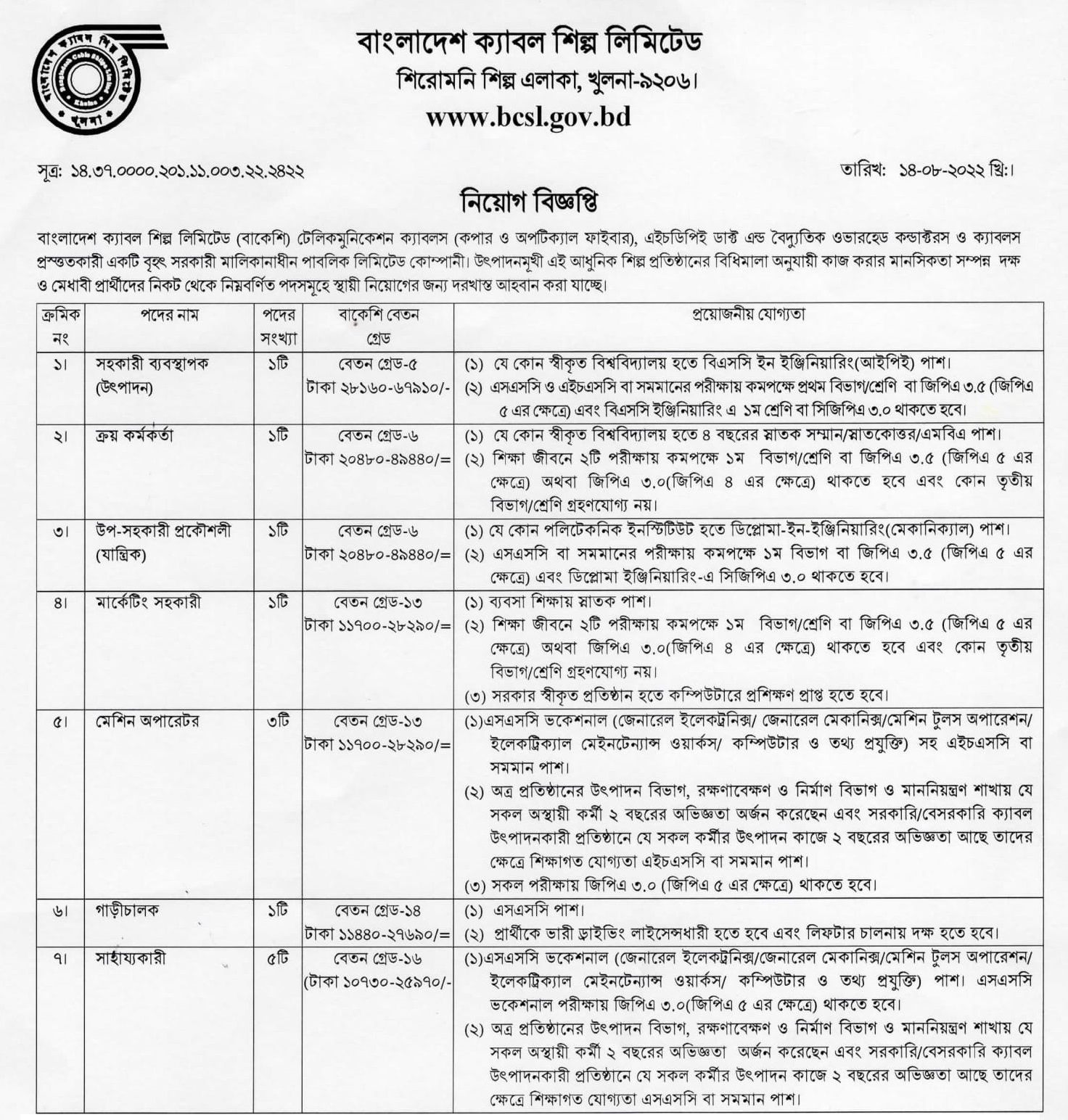 Apply for job
Sorry! application is not available.
Related Jobs